Chief Executive Women site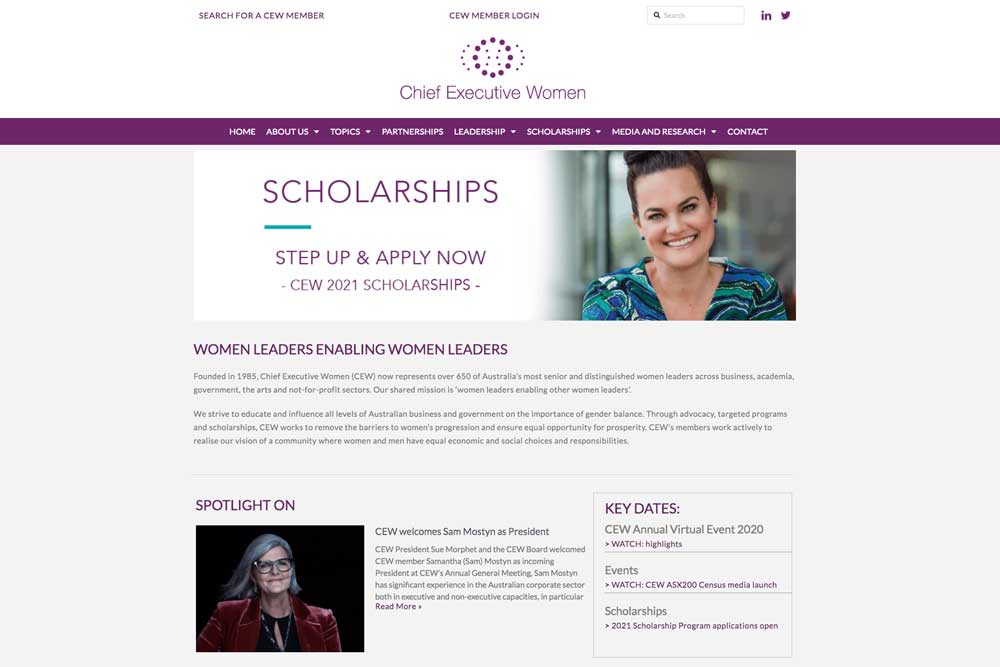 I've worked with Chief Executive Women since 2016 when I was asked to redesign their site. A small team and a not-for-profit, they were having difficulty reigning together the various branches of their core service in a coherent way.
A membership, advocacy and scholarships organisation, their core ethos of Women Leaders Enabling Women Leaders has been at the centre for equal representation of women in executive positions in Australia since 1985
Like many sites supporting a not-for-profit organisation, the CEW site needed to wear a number of different hats. The site needs to service their 600+ members and events, be a resource for their advocacy and campaign work and deliver clear information for applicants for their many scholarships. It also works as social proof for sponsors and partnerships. Love Communications developed a site that catalogued their service areas together and set up an easy to use membership database.
Since redesign in 2016, Love Communications has managed the tech and content updates of the site, supporting the organisation with a site that is technically streamlined and fast to deliver, and keeping their running costs low as they are part of our client care plan service. We provide full site technical updates monthly and fold into this cost, their content updates. We know the site and are able to deliver changes and updates for them quickly and easily so their small team can do what they need to, knowing their site is being professionally maintained and their messaging is always live and up to date.
Need help managing, maintaing, updating your site? or help analysing what is working and what could be working better on your site? A client care plan with Love Communications is the answer
Conta